Shaft Grounding, IEEE-841 Motors, and Hazardous Locations
In this Technical Bulletin, we summarize some recent changes to the National Electrical Code and Canadian Electrical Code, and IEEE Standards 841 and 1349. These updates allow shaft grounding in IEEE Std. 841-compliant motors in non-classified areas. Shaft grounding can also be used in Class I Division 2 areas when it can be shown not to cause risk of ignition.
For the full story, download the new AEGIS® Technical Bulletin: Shaft Bonding (Grounding) in Hazardous (Classified) Locations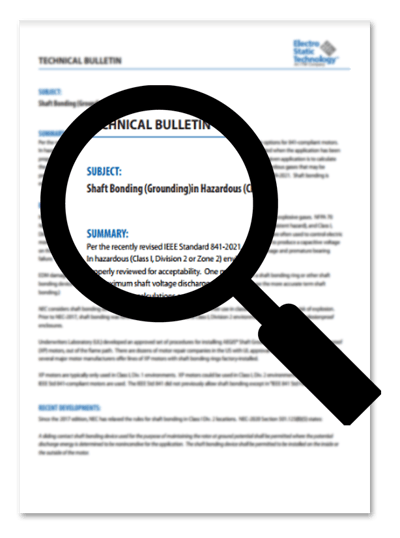 AEGIS
® in Class I, Division 2 Environments
Underwriters Laboratories (UL) has an approved set of procedures for installing AEGIS shaft grounding rings inside explosion proof (XP) motors. XP motors with AEGIS rings installed according to these procedures may be used in Class I: Division 1, and Class I: Division 2 designs. Because shaft grounding devices must be installed inside explosion proof enclosures (as per IEEE 303) for Class I: Division 2, they may not be installed internally or externally in/on a non-XP motor.
At this time, Marathon Electric (Regal Beloit), US Motors (Nidec), WEG Electric, and Baldor (ABB) are the only electric motor manufacturers building XP motors with AEGIS shaft grounding protection installed inside.
UL Approved Electric Motor Repair Companies
To install AEGIS rings in explosion proof motors a motor repair shop must first be UL approved to work on all XP motors. They must then apply for certification for the addition of adding shaft grounding to their UL binder and then demonstrate adherence to the additional set of procedures required for installing shaft grounding inside of XP motors.
Motor repair shops with UL certification to work on XP motors and certification of their ability to add shaft grounding can "rework" any size explosion proof motor and then re-nameplate the motor as explosion proof. The drawing below was created by UL to show where the ring must be installed to comply.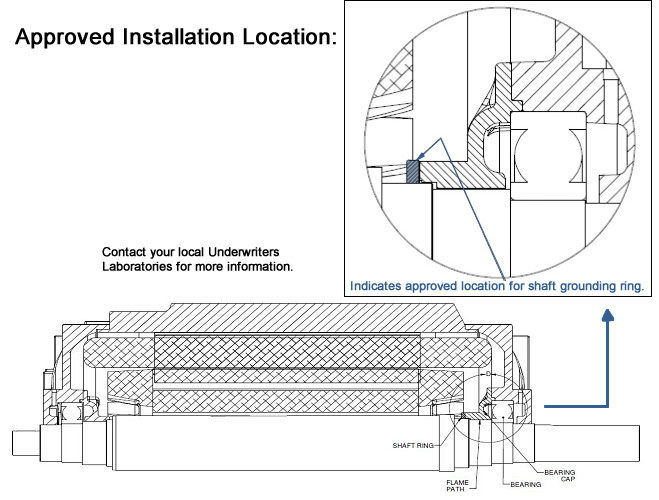 Companies with UL Approval for AEGIS® Grounding Rings
A+ Electric Motor
Contact: Joe Perry
2025 1st Ave S
Billings, MT 59101
Ph: 406 245-6191
Email: joe@apluselectricmotor.com
Web: www.apluselectricmotor.com
Associated Electro-Mechanics
Contact: Tim Aarons
185 Rowland Street
Springfield, MA 01107
Ph: 413 233-5914
Email: taarons@aemservices.com
Web: www.aemservices.com
Decatur Industrial Electric Inc
Contact: Daniel Lang
1650 E Garfield Ave
Decatur IL 62526-5108
Ph: 217 428-6621
Email: dlang@decaturindustrial.com
Web: decaturindustrialelectric.com
Evans Enterprises, Inc. – all 10 locations
Conway, AR
Contact: Derek Lynch
1710 South Amity Road
Ph: 501 327-0125
Email: derek.lynch@goevans.com
Web: www.goevans.com
Fort Smith, AR
Contact: Steve Day
800 621-3589 - Toll Free
479 648-1500 – Phone
Email: steve.day@goevans.com
Rogers, AR
Contact: Steve Day
800 346-4695 - Toll Free
479 636-0721 – Phone
Email: steve.day@goevans.com
Springfield, MO
Contact: Bryan Whitman
800 375-8363 - Toll Free
417 886-8886 – Phone
Email: bryan.whitman@goevans.com
Oklahoma City, OK
Contact: Shawn Andrews
800 423-8267 - Toll Free
405 631-1344 – Phone
Email: shawn.andrews@goevans.com
Pryor, OK
Contact: Bennie Beneux
888 262-2256 - Toll Free
918 825-2200 – Phone
Email: bennie.beneux@goevans.com
Tulsa, OK
Contact: Bennie Beneaux
888 577-1566 - Toll Free
918 587-1566 – Phone
Email: bennie.beneux@goevans.com
Abilene, TX
Contact: Jerry Boroff
325 235-1776 – Phone
Email: jerry.boroff@goevans.com
Waco, TX
Contact: Jerry Boroff
800 234-4129 - Toll Free
254 772-4710 – Phone
Email: jerry.boroff@goevans.com
Wichita Falls, TX
Contact: Jerry Boroff
800 633-0812 - Toll Free
940 723-7466 – Phone
Email: : jerry.boroff@goevans.com
FA Farrar
Contact: Kevin Judd
15 Avon St
Keene, NH 03431
Ph: 603 352-4316
Email: info@fafarrar.com
Web: www.fafarrar.com
HECO – All Systems Go
Contact: Justin Hatfield
3509 South Burdick Street
Kalamazoo, MI 49001
Ph: 269 381-7200
Email: jhatfield@hecoinc.com
Web: www.hecoinc.com
Independent Electric Machinery Co
Contact: David Launder, Jr
4425 Oliver Street
Kansas City, KS 66106
Ph: 913 362-1155
Email: dave.launder@iemco.com
Web: www.iemco.com
Industrial Electro Mechanics
Contact: Steve Carbone
1624 Dean Forest Road
Savannah, GA 31408
Ph: 912-964-0884
Email: scarbone@iemsavannah.com
Web: www.iemsavannah.com
Intermountain Motor Sales
Contact: Jim Stout
2101 North 6 Mile Rd
Casper, WY 82604
Ph: 307 472-0854
Email: jim@imscasper.com
Koontz-Wagner Services
Contact: Berl Hare
3801 Voorde Dr
South Bend, IN 46628
Ph: 800 345-2051
Email: bhare@kwservices.com
Web: www.kwservices.com
Malloy Electric
Contact: Customer Service
Dakota Dunes, SD 57049
Ph: 605 242-2000
Email:
customerservice@malloyelectric.com
Web: www.malloyelectric.com
Matlock Electric Co., Inc.
Contact: Kevin Flynn
2780 Highland Ave
Cincinnati, OH 45212
Ph: 513 731-9600
Email: service@matlockelectric.com
Web: www.matlockelectric.com
Troy Industrial Solutions
Contact: Dave Cook
70 Cohoes Rd
Watervliet, NY 12189
Ph: 515 272-4920
Email: dcook@troyindustrial.com
Web: www.troyindustrialsolutions.com
Vaughn Electric Co Inc.
Contact: Kirk Kalb
313 E. Florida Avenue
Union City, TN 38261
Ph: 731-446-4333
Email: kirk@vaughnelectric.com
Web: www.vaughnelectric.com
Whelco Industrial
Contact: Tom Fisher
28210 Cedar Park Blvd
Perrysburg, OH 43551
Ph: 419-385-4655
Email: tfisher@whelco.com
Web: www.whelco.com
Additional Resources
We've got the resources you need to understand what causes electrical bearing damage, what solutions are needed, how to apply those solutions, and where to purchase everything you need to ensure bearing health.
Questions About AEGIS
®? Contact Our Experts Today